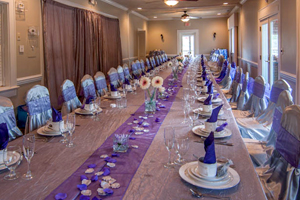 Bring your own style and wedding theme.
Single Day Rental
The rental of the house is a single day rental from 10 am to 12 Midnight.
The Lake House at Avondale cannot accept deliveries or store items before or past the date you have specifically rented. We are unable to accommodate rental or delivery companies who supply chairs, flatware, plates, linens, and tents etc. who schedule deliveries the day before or pick up the day after your rental date. Storage and cleanup of these items is solely the responsibility of the renter and the Lake house at Avondale cannot be responsible for them unless specific arrangements are made with one of the property managers. Please check with your vendor's hour of operations as many are not open or do not make pickups on Sundays.
Please call for daytime hourly rates and availability.
Design your own wedding chapel.
For more information on rentals or to reserve the date for your event
For Rental Information and Reservations, please fill out the form on the left and someone will contact you directly.